Adventures in Faith event: The Torah of Moses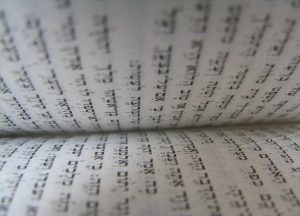 Adventures in Faith presents:
The Torah of Moses: Formation and Theology of the Pentateuch
Saturday 14 January 2 – 4pm at Diocesan Office, 21A Grosvenor Crescent, Edinburgh, EH12 5EL
The Pentateuch – the first five books of the Hebrew Bible – guided the people of Israel in their relationship with God. This fascinating document tackles questions such as election, salvation, and punishment. The event will introduce key texts and topics, showing how the ancient writers laid the literary and theological foundations of later world religion. It was out of their faith and knowledge of God that the Hebrew Bible emerged. Our presenter will engage us in discussion about these ancient texts and give an understanding of their historical context.
With Dr Anja Klein, Chancellor's Fellow in Biblical Studies, Edinburgh University School of Divinity. Previous workshops: "It was excellent", "Anja was really knowledgeable and informative – such a huge subject in such a short afternoon!"
This is an Adventures in Faith event. £5, please book via www.torah14january.brownpapertickets.com