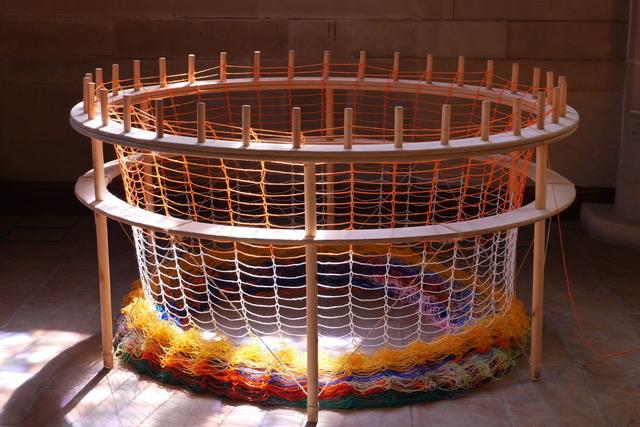 Artists Gardner & Gardner are bringing the 'Peacemakers' loom to the Just Festival in St. John's Episcopal Church, Edinburgh from 7th to 19th August 2023. When the Church is open to the public, the installation will offer a quiet, hospitable space, drawing visitors into the repetitive, contemplative, simple action of knitting on the loom, where attentive listening and prayer will be offered by the artists.
The interactive installation, 'Peacemakers', a circular, wooden French knitting loom, 181cm in diameter, was designed and fabricated by Gardner & Gardner. Its genesis grew out of a sense of helplessness in the face of the Russian annexation of Crimea in 2014 and was first sited in a city centre church in Glasgow. The work of 'Peacemakers' has continued ever since, has been hosted by many communities throughout the UK and has taken on a new urgency in response to the outbreak of war in Ukraine.
Bringing together elements of contemporary art practice, craftivism and Christian spiritual accompaniment, 'Peacemakers' focusses on peacemaking at a personal and relational level, as a response to the conflict we encounter within our lives and the wider world. The communal action of knitting on the loom produces a beautiful, single textile piece, symbolic of both the conversations and the temporary community of peacemakers created around the loom.
During the Just Festival, visitors will be invited to join the artists in the simple action of knitting on the loom and building peace through the sharing of many small actions and kind words.
Everyone is welcome…
This installation is free with a suggested donation of one ball of wool.