AMAZING! INCREDIBLE! WOW!
What a BIG DAY we had on Saturday 28th April with over 500 people gathering at St Mary's Cathedral to celebrate the life of our Diocese. Many people have commented how it exceeded all expectations and the atmosphere of joy and togetherness created an extraordinary buzz throughout the whole event.

A huge THANK YOU to all those involved with creating, setting up and running the fantastic stalls we had all around the building; each one a unique demonstration of the community life of the 45 churches represented. So much planning and work had gone into the incredible variety of displays and activities. Knitting, afternoon tea, plant pot making, incense, lego, pancakes, vestments….an abundant witness to the creative Spirit of God working in us and through us. THANK YOU for taking part and I hope you enjoyed it all as much as I did.
It was such a delight to celebrate our faith together in a joyous Eucharist with young and old praising God and rejoicing in God's love revealed in our Saviour, Jesus Christ. The theme of hospitality was a thread running throughout the day, and another THANK YOU to the Cathedral, the Provost, staff and volunteers who welcomed us SO warmly. Over in the hall 25+ charities and organisations offered a wide range of ideas and resources to support us in our mission and inspire us to think differently, whilst 14 different workshops gave space for teaching, discussion and reflection.
THANK YOU to everyone involved who helped to make the day such a success.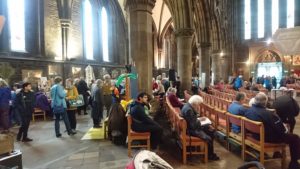 Praise God for the life and faith we celebrated together in such a
Glorious, Fantastic BIG DAY!
For more details about our Vision and Priorities, visit our Growing Together page here.