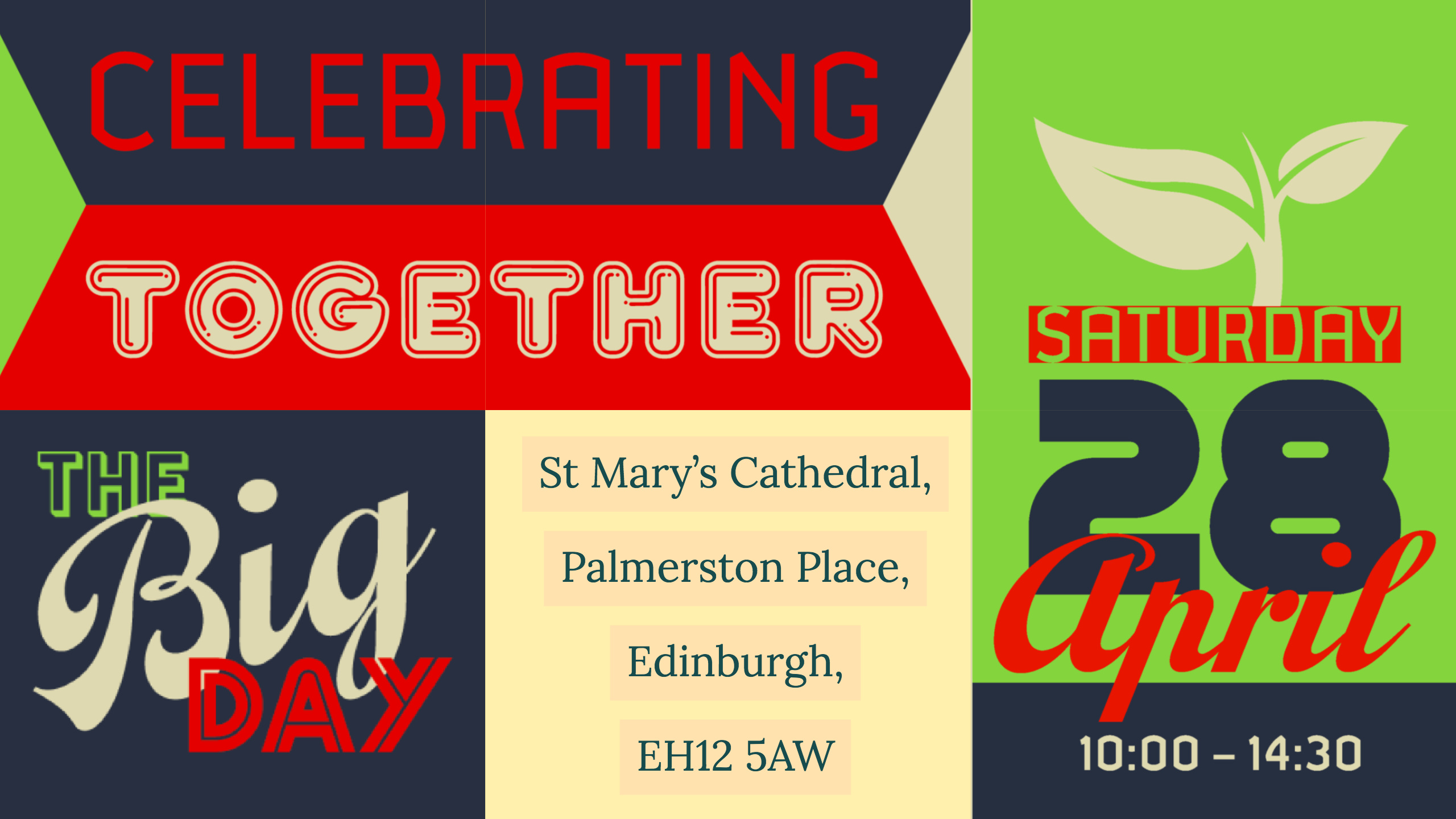 Are you coming to The Big Day, happening next Saturday 28th April at St Mary's Cathedral?
Everybody from any church across the Diocese is invited to join in a great celebration of our shared life and faith. The Big Day is an exciting opportunity for all people and congregations to get together. It's a chance to learn from each other and rejoice in who we are as God's family and in the good news we are called to share.
With an amazing number of 40 churches bringing a stall and about 400 people expected, it is sure to be a fabulous day! If your church has not already been in touch, please let us know you are coming by emailing Annie.
The main Cathedral doors on Palmerston Place (EH12 5AW) and those at Manor Place, will be open from 8am (for set up), with registration and refreshments from 9.45am and opening worship at 10.30am. Then for a few hours the Cathedral will become a glorious all-age extravaganza of worship, prayer, workshops, lunch, Eucharist and a hub of resources, all finishing by 2.30pm.
Join one of the workshops for training, ideas and stories on a wide variety of topics listed here
Be part of the creative all-age Eucharist featuring Fischy Music
Browse over 40 stalls and experience something of the work and mission of different churches
Spend some time in the presence of God with multi-sensory prayer stations and an outdoor labyrinth
Visit the exhibition hub in the Walpole Hall to discover and talk with diverse charities and organisations offering support and resources for your discipleship and your church community
Make the most of the all-age activities and stalls, such as Play and Pray
On Saturday, passengers or equipment can be dropped off at the Cathedral but no parking is available. There is expensive, limited, on-street parking nearby (eg Melville Street), or about 5-10mins walk away north of the Water of Leith and the Modern Art Gallery, you can park for free on Saturdays (eg Ravelston Terrace or Queensferry Road). We therefore recommend using public transport as much as possible.
On arrival registration will be at the main (west) doors on Palmerston Place (EH12 5AW), where you will be able to sign up for one of the first 7 workshops. With limited spaces some folk will miss out and so others can then sign up, from about 11.15am, for one of the second (12pm) workshops. See the workshop list here. There will only be the number of spaces indicated on the list so it may be that not everyone will have the chance to do a workshop. However there will be plenty of other options to enjoy with the stalls, resource exhibition, prayer stations and outside labyrinth.
Lunch will be a simple packed lunch available to be collected from about 12.15pm from the Walpole Hall or West End (near the main doors). We are not charging for the day, but donations towards the costs would be very gratefully received. Also as Cornerstone Bookshop will be selling books and will be unable to take credit cards, you might like to advise people to bring some cash.
Can you help?
Helpers – If you or anyone from your church would be willing to help, we do need people to set things up on Friday 27th / early on Saturday, and to clear up afterwards. Please ask folk to email Annie or 0131 538 7033 or just turn up!
Refreshments – Also if you or anyone from your church would be willing to help serving tea and coffee during the event, again please email or phone Annie, or find her on the day. We hope to have a team so that people only need to help for a while.
Screen – If you or your church has a small screen which you could transport and we could borrow for a workshop, we would be very grateful. Please get in touch.
Extension leads – If you are bringing a stall which requires power, please bring an extension lead, clearly labelled with your name.
It is thrilling to know so many people are coming, and I do hope you too have a sense of anticipation. Please do pray for the whole event, that we all will be encouraged and inspired through the presence of God in this sharing of our lives and faith.
See you there!!!
For more details contact Annie Naish or call the Diocesan Office on 0131 538 7033.