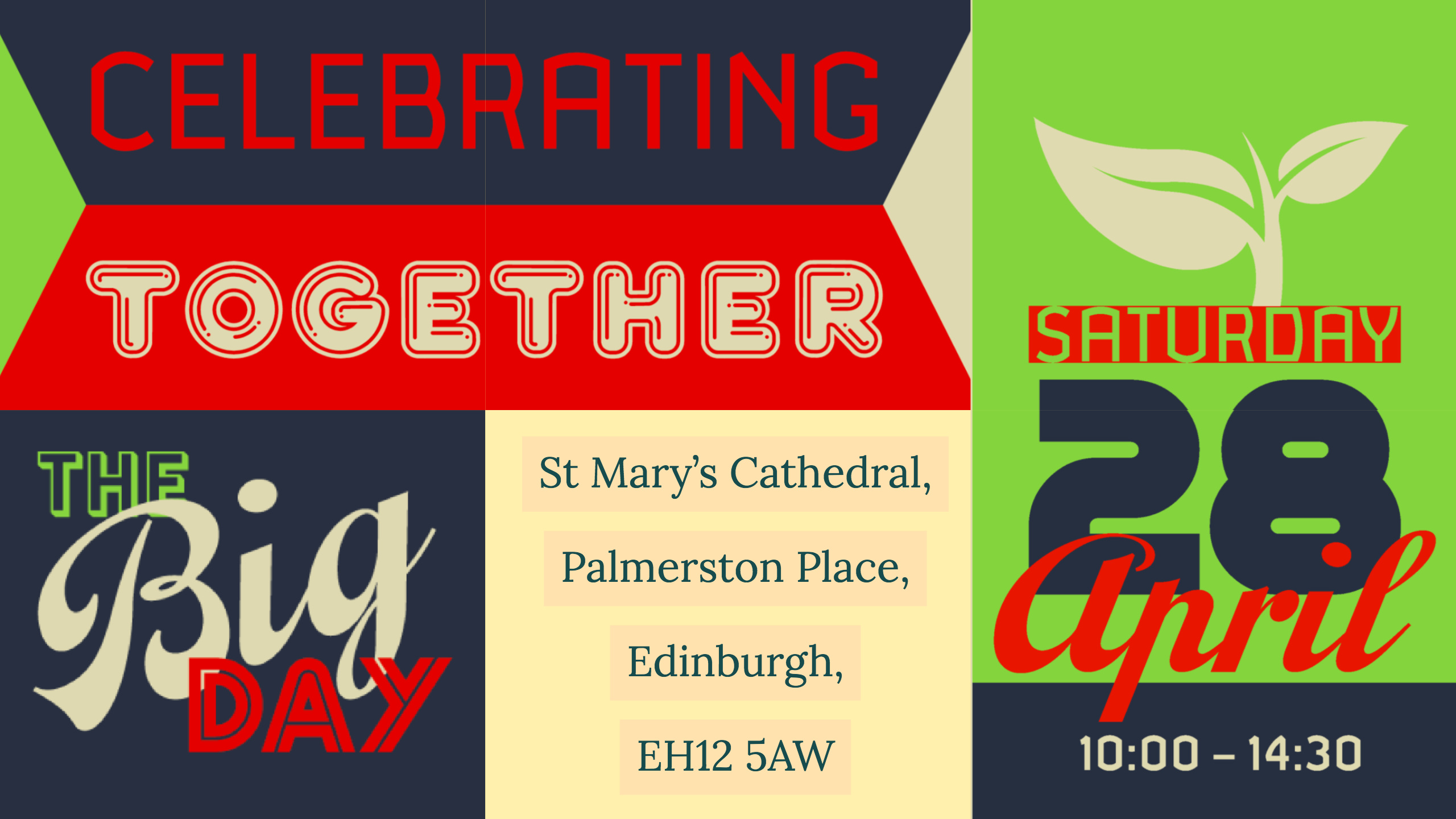 Have you heard about The Big Day, happening at St Mary's Cathedral on 28th April?
Everybody from any church across the Diocese is invited to come and join in a great celebration of our shared life and faith. The Big Day is an exciting opportunity for all people and congregations to get together. It's a chance to learn from each other and rejoice in who we are as God's family and in the good news we are called to share.
With refreshments from 10am, the event starts at 10:30am and for a few hours the Cathedral will become a glorious all-age extravaganza of worship, prayer, workshops, lunch, Eucharist and a hub of resources, all finishing by 2.30pm.
Be part of the creative all-age Eucharist featuring Fischy Music

Browse round the stalls and experience something of the work and mission of different churches

Spend some time in the presence of God in the multi-sensory prayer zone

Join one of the workshops for training, ideas and stories on a wide variety of topics to inspire and equip us for living and sharing our faith

Visit the exhibition hub to discover and talk with diverse charities and organisations offering support and resources for your discipleship and your church community

Make the most of the all-age activities and stalls, such as Pray and Play
With a massive choice of workshops exploring things such as contemplative prayer, dementia-friendly churches, Godly play, Fischy Music, messy church, and mindfulness, there is sure to be something for everyone at this joyful occasion.
Discover the extraordinary variety of our churches through the stalls each congregation has been asked to create and run, showcasing one aspect of their life and mission.
What will your church share on the Big Day?
Discuss with your Rector and Vestry members and plan your contribution together.
Choose one thing that you might particularly want others to know about your church or that they might find helpful. Try to make your stall as creative and interactive as possible, for example you could use a craft, puzzle, game, quiz or simple activity.
Come along to The Big Day and be part of the next step of the Growing Together journey.
For more details contact Annie Naish or call the Diocesan Office on 0131 538 7033.