Lambeth Conference Day One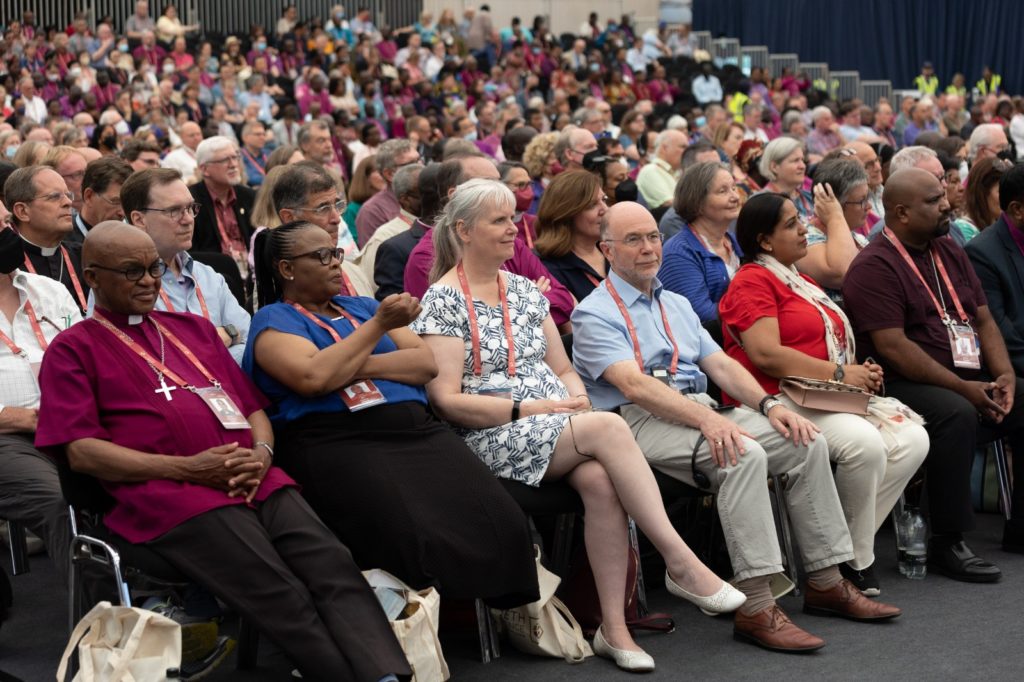 The first day of the Lambeth Conference was a full day and a very happy one, with loads of very interesting people to meet and fascinating conversations to be had. Here we mostly talk on the move, walking the many paths across this sprawling campus. There are set points too: meal times, discussion sessions, evenings in the bar. I was very pleased to meet Bishop Steven Benford (pictured left) – Bishop of Dunedin, our link diocese – and his wife Lorraine at breakfast. I've still to meet with Bishop Victor from Cape Coast in Ghana, our other link, but I know here's here somewhere. There are so many people here and even when we all gathered in the Conference venue, or, as we did this evening, for a meal in the open air, it was hard to spot familiar faces in the crowd.
This afternoon I was pleased to meet with a group of bishops I'd only previously met online, in the pre-Lambeth sessions over the past year. Two things became clear. Firstly, some people live every day with challenges we in Scotland can barely imagine. A bishop from the Philippines stood up to tell us of a serious earthquake that had just taken place in his diocese, destroying some churches. People he knew personally were still missing. He reported this in a matter-of-fact way: such disasters are not uncommon in his country. He asked for prayer. Secondly, whether in Kenya or South Africa, India or the Philippines, Tanzania or the UK, there's a great deal of political uncertainty about. In each place, people wonder whether politicians mean what they say or are capable of delivering on their promises. Much Christian ministry across the world is dealing with the consequences of political failure and the stress and misery it causes. What does it mean to be God's church in this sort of world?
Tomorrow we go to Canterbury Cathedral to begin our retreat. We shall be reflecting on St Peter's first letter throughout the conference, with its great themes of hope and holiness, and living the faith often as exiles in an unfriendly world. The next two days will offer us a general introduction and an opportunity, I hope, to share with one another at a deep level.