Children and young people welcome!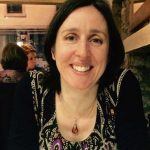 Our churches warmly welcome young people of all ages. Clergy, volunteers and youth & children's workers across the Diocese are working hard to include young people in church and encourage their faith. We listen to young people, valuing their insights and questions about God, life and church.
The Youth and Children Officer is a central point of contact for all churches in their work with children and young people. This includes training for leaders and clergy, events for young people, advice on resources and materials, and involvement in the annual Provincial Youth Week at Glenalmond. The Diocesan Youth & Children Officer is Claire Benton-Evans.
Downloads
Application forms for funding for youth and children's projects can be found here. The closing date is 30 November.
Get in touch
Contact: youthandchildren@dioceseofedinburgh.org
Office: 0131 346 9081
Work mobile: 0747 372 8148
You can now like us on Facebook ('Edinburgh Diocese Youth and Children') and follow us on Twitter ('@EdinDioYouth') to get updates about activities and news from the diocese and beyond. You can also read the latest Youth and Children Newsletter and see an archive of previous editions, too.
If you would like to know about  Safeguarding, click here (link to Scottish Episcopal Church website). 
Latest News
Click here