The Priory, St Mary of Mount Carmel, South Queensferry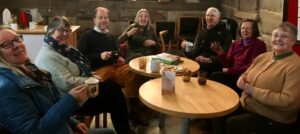 ABOUT THE CHURCH
A 21st-century congregation with 15th century roots, The Priory has been a place of Christian worship for more than 600 years and has a rich and varied history. The restored medieval building on the banks of the Firth of Forth is home to a lively church community who are convinced of the reality and relevance of Jesus' message and ministry for the modern world.
We meet every Sunday at 10.30am, a 'blended' group – most in the Priory, some online via Zoom, using a mix of Morning Prayer and Communion services followed by coffee, tea and juice. We aim to welcome all, and include those familiar with other church traditions or with none. Communion is open to all Christian believers; children are welcome and may receive communion or a prayer of blessing at the discretion of their parents.
On first Sundays each month, our joint 'Messy church congregation' meets from 4 – 5.30pm. Family groups learn about following Jesus together through all-age activities and songs, and eat a simple meal at the end.
Midweek, we meet to pray on Thursday at 10am, with refreshments after. The Queensferry Foodbank team serve customers from 11am to 1pm, and offer financial advice, and we're open into the afternoon as part of the 'Warm Welcome' initiative. Seasonal and special study groups meet online and in person to explore what it means to follow Jesus in the 21st century.
We're building a new 'Garden Room', aiming to add capacity for church and local groups, introduce newcomers to local organisations, assist those enquiring about Christian faith, provide opportunities for retreats, and be a venue for sensibly-priced weddings and other celebrations using locally-sourced hospitality. Our main Priory premises are also available for hire and regular use, especially for regular groups, small music and choral events making use of the lovely acoustics: contact Steven at buildinghire@priorychurch.com.
The whole congregation are involved in ministry in church and beyond, and we look forward to welcoming you!
Clergy
Rev Gavin Burnage
Rev Canon Mike Parker
Rev Dr Iain MacRobert
Priory Church of St Mary of Mt Carmel, South Queensferry website
Address: Hopetoun Road, South Queensferry, EH30 9RA
Telephone: 0771 965 3594
Email: friends@priorychurch.com
Wheelchair access & induction loop system.