Ukraine conflict: one year on
Last month saw the anniversary of Russia's invasion into Ukraine, and since that time thousands of Ukrainians have come to live within our diocese. While the circumstances which led them here are heart-breaking we're happy to have been able to welcome new friends into our community, in and out of church.
At Leith Docks, a large cruise liner is currently housing many Ukrainian families while they await a longer term residence. Though living on board a cruise ship is very much a temporary situation, the accommodation is warm and safe, and has encouraged a strong sense of community, as Bishop John discovered when he visited, alongside Roman Catholic Archbishop Leo Cushley.
St Cuthbert's church in Colinton is, from time to time, hosting services from the Ukrainian Orthodox Community. On Sunday 26th March – the fifth Sunday in Lent – there will be a Ukrainian Orthodox service in the hall at St Cuthbert's at 10.30am, followed by tea and a chrismation: a confirmatory sacrament.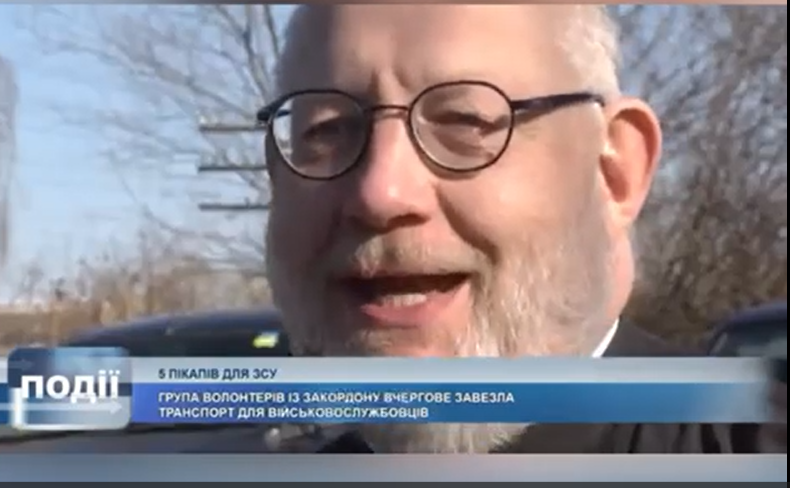 And, earlier this month, two members of clergy from our Diocese went to Ukraine themselves, as part of the Jeeps for Peace movement. Jeeps for Peace was founded by a member of Christ Church, Morningside in February 2022 to deliver vehicles and other equipment and supplies to the front line in Ukraine.  Markus Dünzkofer – Rector of St John's Princes Street – and Ross Jesmond – curate at St Salvador's, Stenhouse and Holy Cross, Davidson's Mains – took a ferry from Newcastle to the Netherlands before driving through Germany and then Poland to the western Ukrainian city of Lviv, to deliver a vehicle to be used to help bring wounded people and animals to safety. They even made it onto the Ukrainian news! They've recorded a short zoom call with each other to tell us more about their experience.