Our churches in the Edinburgh festivals!
Just Festival
5 – 26 August
St John's Church, Princes Street
Just Festival is a multi-arts festival focused on social justice which takes place at St John's, Princes Street. This year the festival is themed around the idea of 'Displacement'. Its programme focuses on stories and experiences from displaced people; the displacement of water in our oceans caused by the melting of polar ice caps; the displacement in our climate; and displaced objects, words and sounds. Some of its highlights are Dance Fachin; a group of dancers and climate activists from Toronto, Canada, who are bringing their powerful climate justice based dance piece The Fourth R between 11 and 18 August; a concert for solo violin and electronics in partnership with new music organisation The Night With… and the Peacemakers' Loom: an interactive installation from Glasgow based duo Gardner and Gardner where they – and you, if you wish – weave on a French knitting loom.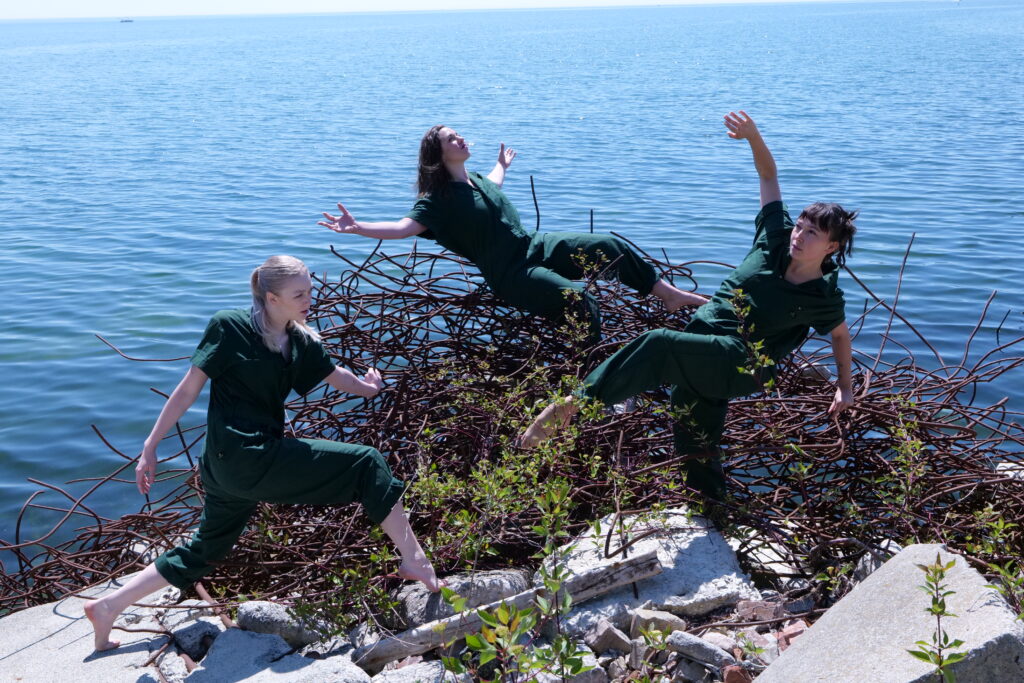 7-21, 23-24, 26-28 August
St Columba's by the Castle, Johnston Terrace
Immrama, named after an ancient Celtic word for 'voyage tales' – allegories of our journey through life – is an exhibition based on the life and journey of St Columba.  Immrama invites audiences to reflect on their own voyage tales through five themes – Journey, Community, Nature, Humanity and Culture Immrama incorporates work by Scottish contemporary artists including painter Simon Lawrie, artist and willow sculptor Lizzie Farey, photographer David Williams and calligrapher Susie Leiper, as well as a textile piece by the Viennese visual artist Friedensreich Hundertwasser.  Members of the congregation have also been instrumental in bringing Immrama to life, through creating a unique accompanying soundscape – an aural tapestry of day to day sounds on the isle of Iona – and a video to accompany the exhibition.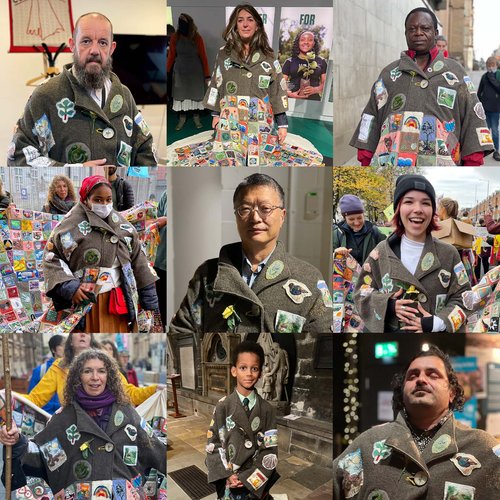 4 – 28 August
St Mary's Cathedral, Palmerston Place
A+E braids the terms accident and emergency, art and ecology, art and education. Curated by Jonathan Baxter A+E asks: how might the Cathedral become an ecological commons for the city and how might that shape a social and ecological art practice? Some highlights for this year's programme include The Coat of Hopes – literally, a coat stitched with patches – that has been travelling Britain since its first journey in 2021, in preparation for COP26. It now commences a new chapter in its journey, walking from Glasgow to Edinburgh, and being exhibited at the Cathedral through the Festival. It has can accompanying film – Of Walking on Thin Ice (Camino to COP26) is a 55 minute B&W 16mm film documentary by artist filmmaker Benjamin Wigley (ART DOCS). It follows the story of climate activist walkers (including the Coat of Hopes) as they travel across England and Scotland to attend the world climate summit, held in Glasgow, in November 2021. This is an immersive and poetic film memory of the Camino, capturing footage of landscapes, the slow and quick movements of flag-waving, and the ethereal sound of unseen voices sharing reflections. Ben walked with the pilgrims; rigging himself with binaural microphones and shooting on 16mm film on his Bolex camera, which he then developed, by hand. Following its residency at the Cathedral, the film will then be made available for community screenings across Scotland as part of Take One Action's Community Film Clubs Initiative.
Retrospective – Michael Jessing
St Michael and All Saints, Brougham Place
St Michael and All Saints are hosting an exhibition of works by American born artist Michael Jessing. Michael Jessing was a well-loved member of St Michael and All Saints, who sadly passed away two years ago, leaving a legacy of his artworks to the congregation. Jessing was born in New York City, 1953. His paintings and graphics based on allegorical themes (commentaries on contemporary issues set in mythological contexts) and OrganicScapes have been exhibited in galleries and museums in the United States and the United Kingdom. Jessing has also worked on commissions for murals and icons in Scotland along with teaching art at the Gala Resource Centre, Gallashiels. He currently has a studio in Peebles in the Scottish Borders.
The Edinburgh Festival of Sacred Arts
13 – 19 August
Multiple venues
Taking place in several churches – some which are part of our diocese and others attended by our friends in the Church of Scotland and the Roman Catholic Church – The Edinburgh Festival of Sacred Arts runs from 13 – 19 August. With three exhibitions, seven concerts and a plethora of poetry and spoken word, this eclectic festival celebrates the relationship between art and Christianity. For the first time since the festival's inception in 2018, they've added film; The Desert in the Heart of the World is a cinematic study of the impact of the Carthusian monastic movement on the French landscape. In this short work, director Nadège Druzkowski combines superb visuals with natural sounds to make a compelling extended image of a sacred space. From an exhibition of Jacobite relics, to a concert of brand-new sacred music from emerging Scottish composers, this festival showcases myriad Christian art from across the centuries.