St Mary's Church, from Source to Sacred 'Pilgrimage' to Rosslyn Chapel on 2 July 2023
As the Church enters into the season of Creation, we're delighted to share some of the ways in which our charges celebrate and sustain the natural world. A group from St Mary's, Dalmahoy recently embarked on a pilgrimage, walking the 13 miles to Rosslyn Chapel; here's what Steve Haigh, St Mary's Eco-Representative had to say about it.
The notion to do this walk from Carlops to Rosslyn Chapel came from me reading the eco-congregation toolkit last year. The stone used to build Rosslyn Chapel was quarried in a site near Carlops and the 13 mile walk route roughly follows that which the stone would have been transported along to the chapel – from Source to Sacred.
It was always likely that the number of walkers from St Mary's church would be small and, with one potential walker laid low by injury, 4 of us gathered in the rain at 09.00 in Carlops car park to make our 'pilgrimage'. Thankfully the rain was intermittent and never all that heavy and we were afforded excellent views as we made our way along.
The first section follows minor roads which soon pass the site of the old quarries and the even more obvious old limekiln (used for lime mortar), and which provide a panoramic view of the Pentland Hills before leading to Penicuik. The route skirts the edge of the town including passing the ornate nineteenth century South Kirk, and we had time to take a detour to see the eighteenth-century neo-classical parish church and St Mungo (or Kentigern)'s churchyard. I was interested to see that this was called Penicuik Trinity Community Church, and have since realised that the South Kirk had its last service in March and will be sold, it's congregation now united with that of St Mungo's.
The next section follows the old Penicuik to Dalkeith railway line (which closed in 1967) as far as Roslin Glen. Whilst the Glen is now a nature reserve, it still displays evidence of its industrial past in the form of remnants of the many gunpowder mills which used to line it. River Esk is never far away all along the route and is more visible in the glen.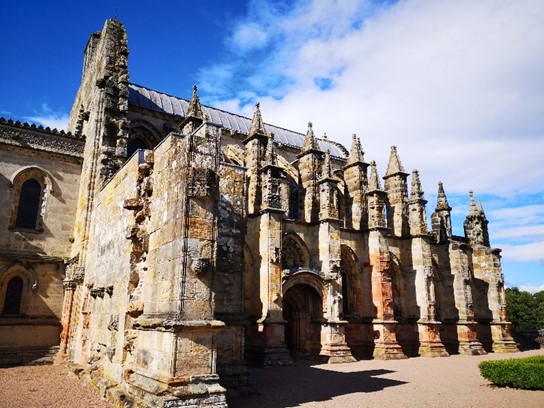 As we approached the final uphill stretch around Rosslyn Castle we were slightly concerned to find our way was blocked for essential maintenance work. With a little help from 'Outdoor Active' (online app) and fellow visitors we found a slightly longer detour which provided an even more dramatic uphill approach to the chapel.
We arrived shortly after 3pm, in good time to join the larger group from St Mary's who had made their own way and who were already taking advantage of the café in the visitor centre – this (and the toilet!) was a welcome sight. Our visit to the chapel started at 3.30 and, after taking in the wonderful exterior, we joined other visitors to enjoy an amusing explanation of some of the many carvings and decorations – including, of course, it's use for filming a scene in the 'Da Vinci Code' (book by Dan Brown). The chapel was founded in 1466 by Sir William St Clair and the original plan was never completed, but what remains is quite spectacular.
The date was chosen because on the first Sunday of the summer months there is a 5.15pm evensong, and this provided a peaceful and prayerful end to our visit. Stewart, Irina, Anne and I were then most grateful to Carole, and Alan and Margaret, who provided us with lifts back to Carlops/home.
Steve Haigh
Lay Representative
Eco- Representative
St Mary's Dalmahoy.