Bible journalling Lent 2: Jesus' Transfiguration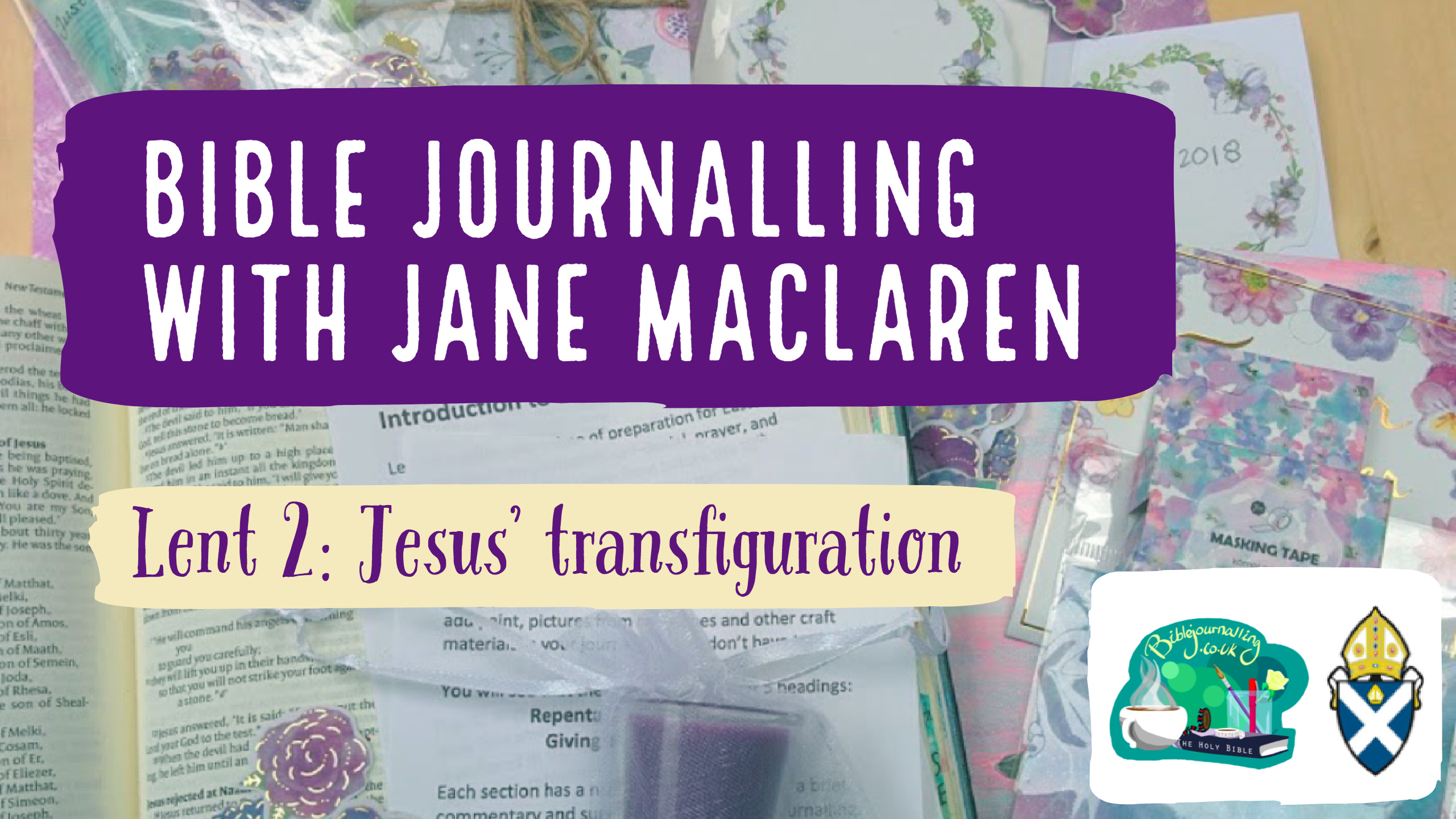 Welcome to week 2 of Lent. This week we are looking at Mark's account of the Transfiguration in Mark 9:2-9. We're working with Jane MacLaren to bring you an online Lent group, looking at the traditional Gospels through the format of Bible journalling. Jane is a non-stipendiary priest with a passion for helping people explore their relationship with God through this technique.
Follow along here, sign up for emails about the course and join our Facebook group to connect with others on the course from across the diocese. If you want a little more background about this course, along with a link to previous posts in the series, read the intro post here.
Bible Journalling Notes for the Second Sunday in Lent 2018: Mark 9:2-9
You may want to start by thinking about the image of the 'high mountain' (verse 2). Here in Scotland we are surrounded by high mountains – you may have been up on top of one yourself with a small group of friends as Jesus, Peter, James and John were in this story.
You could start by putting images of mountains on your page – draw or paint them, cut them out of leaflets or magazines, and add any words that occur to you. I'm thinking 'remote, beautiful, awe-inspiring…' Your list might be similar or very different, depending on your experience.
You may want to look at some of the following verses about mountains and add any insights to your page:
Mark 6:46

Isaiah 40:9

Psalm 121

Isaiah 52:7
You may want to start a new page as you read on through the passage – what jumps out at you?
You might notice some of the following:
The striking images in this passage
Jesus is suddenly dressed in dazzling white; 2 ancient figures appear out of nowhere; everyone is engulfed in cloud; a voice from heaven speaks.

Peter's babbling response borne out of fear
Understandably, Peter is frightened and chooses immediate action as a coping strategy in the face of these bizarre happenings – but the challenge here is to stay in the moment and see how it unfolds.

Parallels with Jesus' baptism (which we looked at last week)
The voice from heaven; the affirming words of God; the authority given to Jesus.

God's imperative
"Listen to him".
You can take each of these aspects in turn and decorate a page on which to write your reflections. Or you can choose the one which stands out for you the most and journal around it. Try a colour wash as suggested below, and while you are applying the paint, pray for insights that you can then write about or represent pictorially. You can follow some of the bullet points from last week if you need some guidance on how to get going.
I was particularly struck by God's instruction to Peter and the other disciples: 'Listen to him'! It's so easy to jump into action and yet listening is more important. Making time for a quiet, prayerful, creative journalling session helps us listen.
Here's a downloadable pdf of the notes for you to print off: Bible Journalling Notes for Lent 2: Mark 9:2-9 Jesus' Transfiguration.
Focus on Technique
2. Using a watercolour wash for background
Watercolour creates a beautiful background for your journalling. You can write on it easily with most types of pen or use it as a base for collage. Use a wet brush to spread some watercolour paint across the page. Try adding another colour up next to the first one and watch them merge creating a rainbow effect. Play with the technique – relax and have fun with it. If your paper gets wrinkly it doesn't matter. The paint will pool in the troughs creating an interesting effect when dry.
You don't have to use expensive watercolours to get great effects. You can often find cheap watercolour tubes or palettes in craft shops or discount shops. You may have some lying around at home already. For backgrounds, childrens' grade watercolour is fine. If buying a palette, try and avoid the very chalky paints which will rub off once dry and clog your pens. The creamy kind are also inexpensive and produce a better finish. Tubes tend to create more vibrant colour and you can mix them with more or less water depending on the effect you want to create.
Here's a quick video of the watercolour background technique, with a comparison of four different sets of watercolours.
(Note from the editor: I'll be compiling a list of all the techniques used at the end of this course, in the meantime, just look back at the previous posts in the series for a new technique each week.
In the meantime, you can order a palette of creamy watercolours for £5 or artist grade watercolour tins for £25 directly from Jane's Etsy shop.)