Bible journalling Lent 3: Jesus clears the temple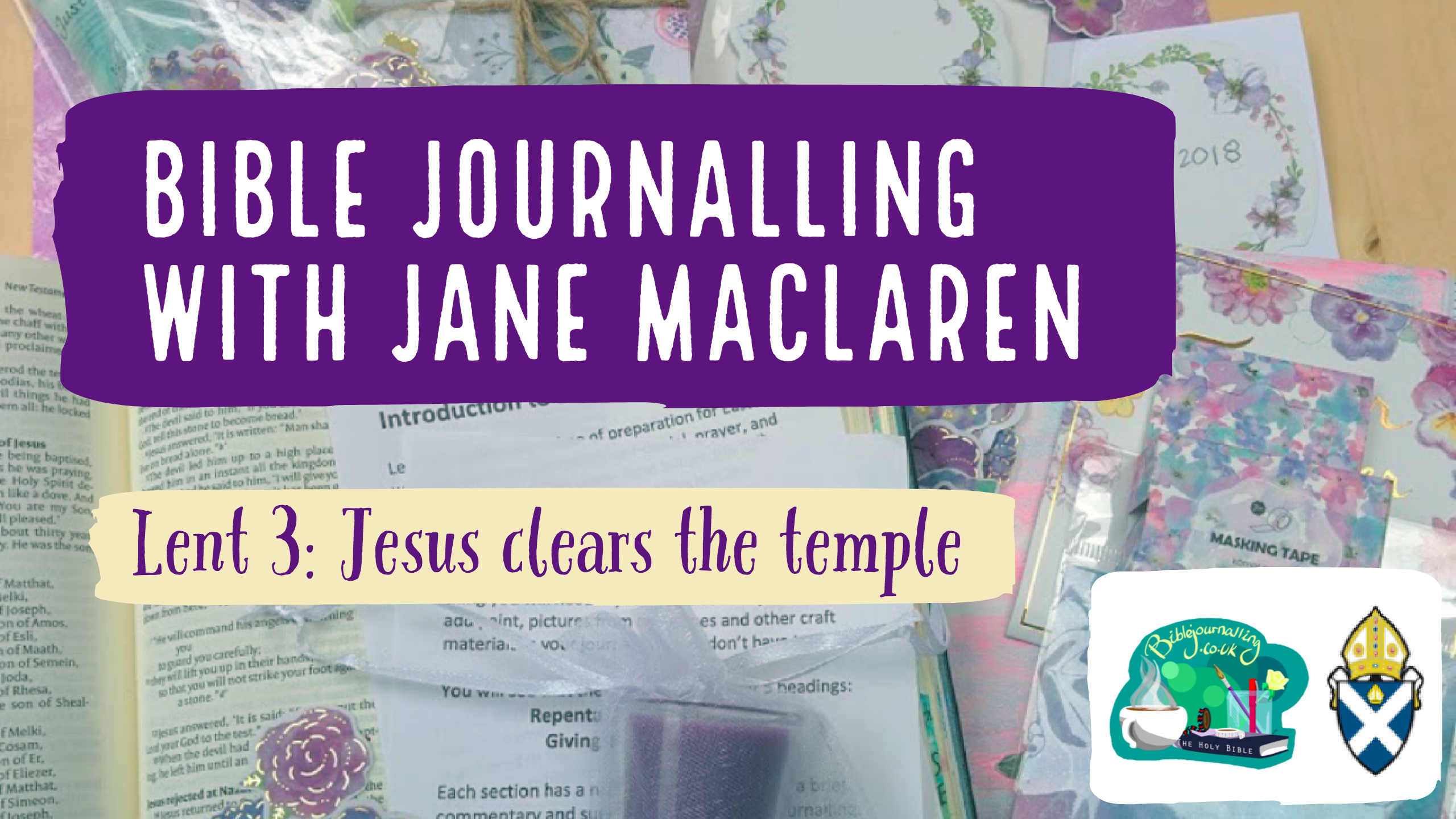 Welcome to week 3 of Lent. This week we are looking at John's account of Jesus clearing the temple courts in John 2:13-22. We're working with Jane MacLaren to bring you an online Lent group, looking at the traditional Gospels through the format of Bible journalling. Jane is a non-stipendiary priest with a passion for helping people explore their relationship with God through this technique.
Follow along here, sign up for emails about the course and join our Facebook group to connect with others on the course from across the diocese. If you want a little more background on this course, along with a link to previous posts in the series, read the intro post here.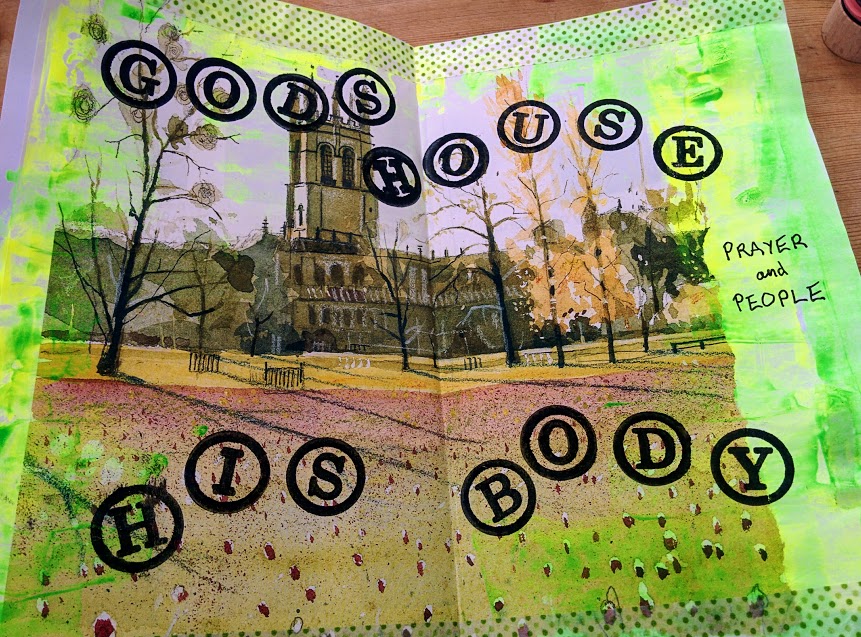 Bible Journalling Notes for the Third Sunday in Lent 2018: John 2:13-22
This week's Gospel Reading is 'Jesus clears the Temple Courts' from John 2:13-22.
See also Psalm 69:9 for the quote in verse 17, and Luke 19:41-48 for another account.
Here Jesus comes to Jerusalem to celebrate the Passover and visits the Temple. Instead of the peaceful atmosphere of prayer one might expect, he finds 'people selling cattle, sheep and doves, and others sitting at tables exchanging money'. (v14)
Read the passage. It shows us that the temple is more than just a building. From Jesus' point of view, it signifies worship and more: reconciliation with God, life in Christ, and the body of believers. The disciples listening in at the time were confused and only realised later what it all meant.
Jesus cares about the Temple. He cares what happens there. We remember how he stayed there as a child feeling more affinity with his 'Father's house' than with the care and protection of his earthly parents. (Luke 2:49). Here, confronted with an abuse of its holy precincts, he acts decisively and with anger. In Luke's account we also see his sorrow as he weeps over Jerusalem, so lost from the ways of God.
It takes time to make a whip out of cords. This is not an anger borne of a lightening-flash of emotion but a carefully considered act to protect something important and explain something important to those who watched. It may have been similar to the sort of anger we feel when innocent people are killed in a needless war, or children starve in one part of the world when we throw away food in another – and he acted on it.
Think about how Jesus must have felt and what mattered to him. Represent this on your page. You may want to include key words and think about our modern-day equivalents of that situation in the temple, in our churches and beyond.
Here's a downloadable pdf of the notes for you to print off: Bible Journalling Notes for Lent 3: John 2:13-22 Jesus clears the temple.
Focus on Technique
3. Using pictures from magazines
Printed matter is all around us. We are surrounded by coloured pictures of all sorts of things, and most of them are free. Keeping a pile of old magazines or leaflets is a great way of ensuring a constant supply of images for your journalling, and it's also a great way of upcycling paper. You can cut or tear pictures – I like the effect of torn edges which merge more comfortably into the background page. You can use one big picture which covers your whole spread – glue carefully so you can open and close the pages easily afterwards (see this weeks' video for tips). Or you can collage with a number of smaller pictures. You can paint over the pictures to get interesting effects. If it's shiny paper, acrylic is best. Watercolour doesn't move well across anything shiny. You can write over most magazine paper with a gel pen or a biro, and a sharpie will write over anything! You can also use stamps as in the video. Keep experimenting and before long you will be enjoying 'mixed media'. But if this sounds forbidding, just think of it as 'cutting and sticking plus a bit of paint'!
Here's a quick video showing how Jane created the beautiful page for her journalling this week.
(Note from the editor: I'll be compiling a list of all the techniques used at the end of this course, in the meantime, just look back at the previous posts in the series for a new technique each week.)