Would you sleep all night in the nave of St Mary's Cathedral? Young people and leaders got out of their comfort zone on 9-10 November to raise money for the Social Bite campaign to end homelessness in Scotland. This was The Wee Sleep Out: Edinburgh Diocese teamed up with the Diocese of St Andrew's, Dunkeld and Dunblane and St Mary's Episcopal Cathedral to join this nationwide fundraising initiative as part of the Year of Young People. How did we get on as the temperature dropped? You can read our through-the-night updates, shared here from the Edinburgh Diocese Youth and Children Facebook page. It's not too late to donate! You can give here and our fundraising will continue until Christmas Eve.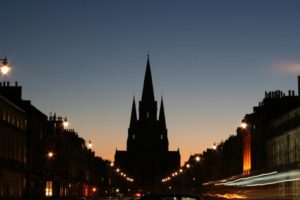 6.55 pm We're getting ready at St Mary's Cathedral for our Wee Sleep Out. The cathedral doors are closed to the public for the night and our team of leaders has assembled: they are all volunteers from the dioceses of Edinburgh and St Andrew's, Dunkeld and Dunblane. We are also joined by Bubbles the dog, who is the Fife Cluster Youth Fellowship Mascot. Participants are excited to meet her!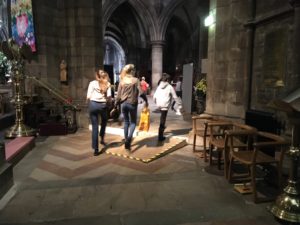 7.36 pm Our young people are getting to know the Cathedral space where we'll be spending the night by doing a treasure hunt. They've been given lists of what you would find in a food package that you might pick up from a foodbank. We will spend some time thinking about what you can make from the food and what would be really hard about it! One young participant is struck by the thought that he might have no choice but to eat tinned mushrooms, which he hates.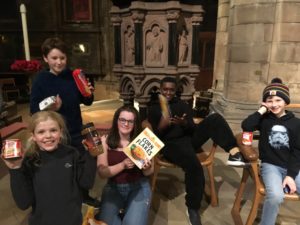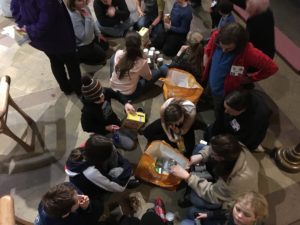 8.18pm We have a winner! Once we had found all the items in the food parcels, each team sat down to chat. They discovered that they didn't necessarily like everything in them! However many of our young people agreed they would eat it if they had nothing else. They decided that it would be really hard to have nothing else to eat and no fresh fruit or veg. We're starting to get a feel for how hard it is to not have many choices available when you rely on a food bank. All the food that was collected will be delivered to a local foodbank so nothing goes to waste!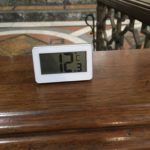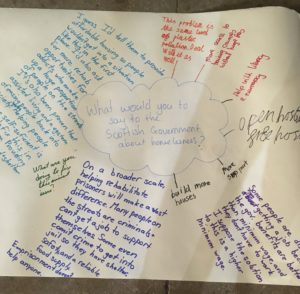 21.06 As the temperature starts to drop we warm ourselves up with hot drinks and food. The only catch is that we're only eating things that can be made in a mug and with hot water. We have spent the last half hour thinking about what we'd like to say to the Scottish Government, writing songs about homelessness and designing clothes that would help those who live on the streets. We might think that we can't do a lot, but our young people are challenging us that even the smallest things are important and can make a difference!
21.51 Even though we'd had warm drinks and food, we were still cold! To warm ourselves up we played some parachute games and had some crazy "campfire" songs. Although we had some fun, it was surprising to realise just how much we can take our homes and heating for granted. Constantly sitting on the hard cold floor is really tough.
22.45 We had a surprise visit from Bishop John and his wife, Clare! We also viewed this video from Social Bite.
23.23 Tonight we sat together as a community of young people to pray for all those who are homeless in Edinburgh. May God be with all those sleeping rough or homeless tonight. May God be stirring the hearts of each of us to speak with those whose voices aren't being heard.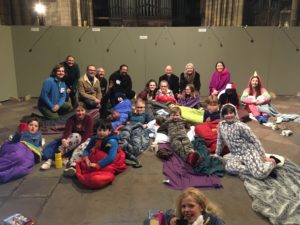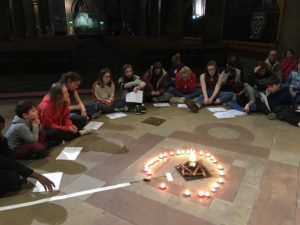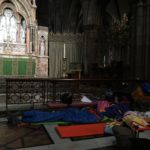 Midnight As we all start to settle down we are making sure that we're wrapped up tightly. The cathedral is chilly (about 12 degrees) and it is easy for us to layer up; we own plenty of jumpers and base layers. We realise that for those who are homeless and own very little, it can be incredibly hard to keep warm.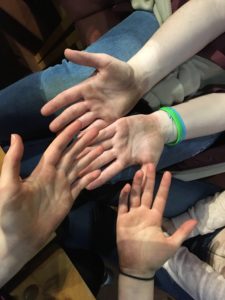 4.18am St Mary's Cathedral is very quiet, bar a few snores every now and again. The young people are all managing to catch some sleep despite the chill. As the leaders change round on their duty in the warm room, we were reflecting on the evening. A few of the girls, earlier this evening, had suddenly noticed that their hands were filthy after sitting on the floor and searching for the food. They had a light bulb moment as they realised that it must be so hard to keep clean when you're on the street all the time. The girls were reflecting on how that must shape the way you feel in a negative way sometimes. It made them even more certain that homelessness is unacceptable in our society.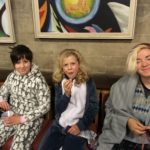 6.18am When you're sleeping rough on the streets there are any number of loud noises to wake you up. To give our young people a sense of that, Claire and Beki walked round the Cathedral at 6am, making noise and waking everyone up! It's fair to say that we've got some very sleepy young people. Breakfast is a bread roll or plain porridge.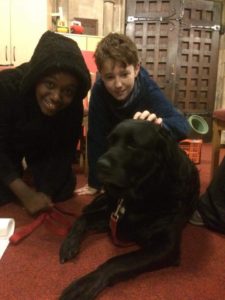 7.28 am Oftentimes, you may notice that those living on the streets have a dog with them. Animals can provide amazing comfort to us, loving us and depending on us no matter what. They can also provide us with a sense of purpose. We were delighted to have Bubbles with us last night. Our young people certainly felt a sense of responsibility towards Bubbles, making sure she was happy. She was also great at giving cuddles when anyone needed reassurance. Let us never underestimate the power that a pet can have.
Bubbles is a withdrawn guide dog with a lovely nature who is used to visiting churches, care homes and youth groups. It was great to have her sleeping out with us!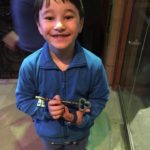 7.03 am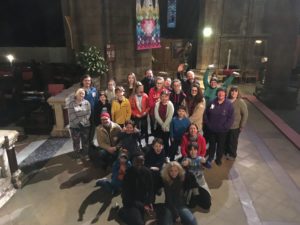 As our Wee Sleep Out comes to a close, we take a survivors photo and some of the young people help to open the Cathedral doors, ready for the new day. We've learnt lots, been challenged and thought about the experience of those who live on the street. We will leave different people to those who gathered last night; more aware and more motivated to make a change, to stand with those whose voices are not being heard! We are gathering one last time as a community of young people to join in a service of Holy Communion. We'll keep praying for all those without homes and keep calling on society to end homelessness: you can donate here. Thank you to everyone who has already given so generously!
A diocesan team including Bishop John, the Bishop's Enabler of Mission and the Youth and Children Officer will be sleeping in Princes Street Gardens on 8 December to raise money for Social Bite's campaign to end homelessness in Scotland. Why not join them? (see below) You can also support them by donating here.