Lambeth Conference Day Eight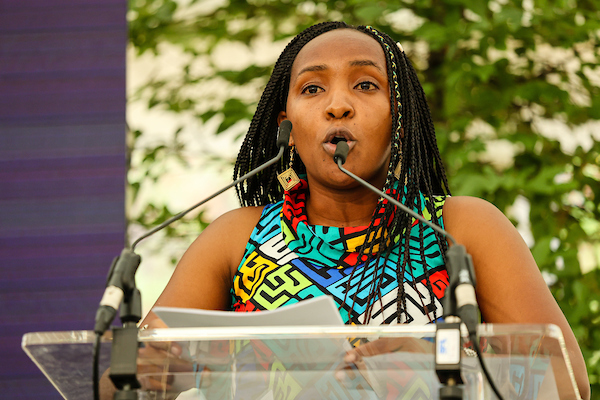 A day-off today… except that this is the Lambeth Conference so even days-off require a bit of work. Early morning, we boarded coaches to Lambeth Palace. On arrival, we were greeted by a gospel choir, a steel band, a huge garden with refreshments aplenty, a prayer-walk and two massive marquees set for a sit-down meal for over a thousand people. Another organisational triumph, carried of with warm informality and generous hospitality.
The theme of the day was Environment and Sustainable Development. A young environment activist from Kenya, Elizabeth Wathudi, and an indigenous bishop from Brazil, Bishop Marinez Rosa Dos Santos Bassotto, Bishop of the Amazon, helped to open up the subject with real stories of real people. There was a symbolic action of tree planting (this being the wrong time of year to plant trees in a London garden) and then we returned to Canterbury via a river trip to Greenwich.  
The tree planting was part of the 'The Communion Forest Project', something I hope our Province can join in wholeheartedly. Not just tree planting but forest protection and eco-system restoration too – plenty for us to go at in Scotland. Indeed, we already have a number of projects across the Province which would find an honourable place in the Communion Forest.
We shall discuss the Environment and Sustainable Development Call in more detail on Saturday. I don't anticipate any problems. Or, to put it more positively, it will simply reinforce for us the direction of travel we know we must follow and that we stated clearly at COP26.
Read further on the Anligcan Communion's stance on COP26 and our environmental mission